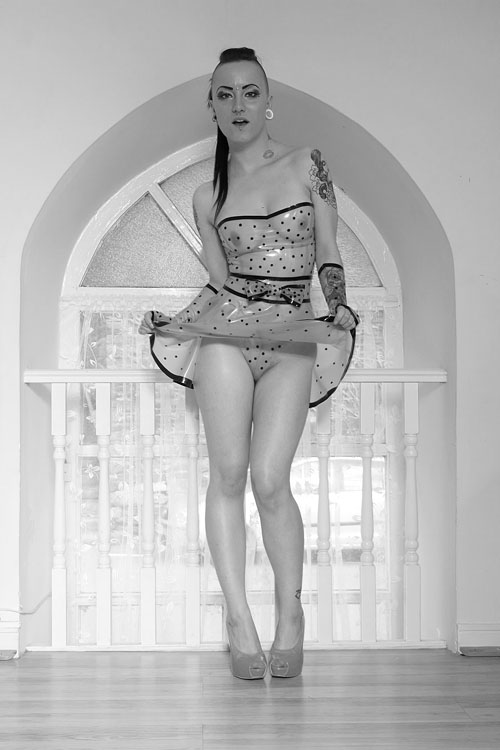 Polka Dot Dress
This cuter than cute design has hand appliqued individual polka dots on the dress. It is shaped around the bust and has a waistband with decorative bow attached. Short mini dress skater style bottom. It is all trimmed to match the Polka Dots It has a Back Zip
Gauntlet style matching Gloves are extra.
Depending on the colour requested this outfit could have varying degrees of transparency.
The dress shown is in semi-transparent natural Latex 0.4 mm Latex.
sizes available Extra small, Small, Medium, Large
Colours available. Red, Black, White, semi-trans natural, semi-trans black anything else please email us for details.
Price Based on Shipping
Polka Dot to UK £275.00
Polka Dot to Eu £295.00
Polka Dot to Rest of the world £345.00
Polka Dot toEastern Europe £345.00

Long Latex Gauntlets Hand made Long Latex gauntlets to match your outfit
Sizing We need the measurements around the forarm, wrist and palm of hand.
Colours available. Most Radical Rubber standard colours includes transparents, metallic would be extra please email us for details.
Price per pair:
Polka Dot £45.00
Striped £40.00
Plain £28.00